Homeowners who value both form and function request them for their IKEA kitchen designs.
We can all agree that rollout trashcans are the best thing to hit kitchen design since the dishwasher. Your garbage no longer takes up valuable real estate on the kitchen floor, and you no longer have to struggle to access a hidden garbage pail.

It began with solutions like those brought to you by Rev-A-Shelf internal cabinet organizers.
If you utilize something like Rev-A-Shelf's soft-close aluminum bottom-mount waste container, you can fit your garbage and recycling in the same cabinet and have easy access to both. Many of their wooden bottom-mount waste containers have room for trash, recycling, and additional household storage. Just open a cabinet, and it all comes to you.
Homeowners and design gurus have also jumped on the rollout bandwagon regarding under-sink storage. Those areas are always a pain to access, thanks to pipes and water lines. Rev-A-Shelf has developed a U-shaped vanity pullout for under bathroom sinks and two-tier sink base organizers designed for use in the kitchen.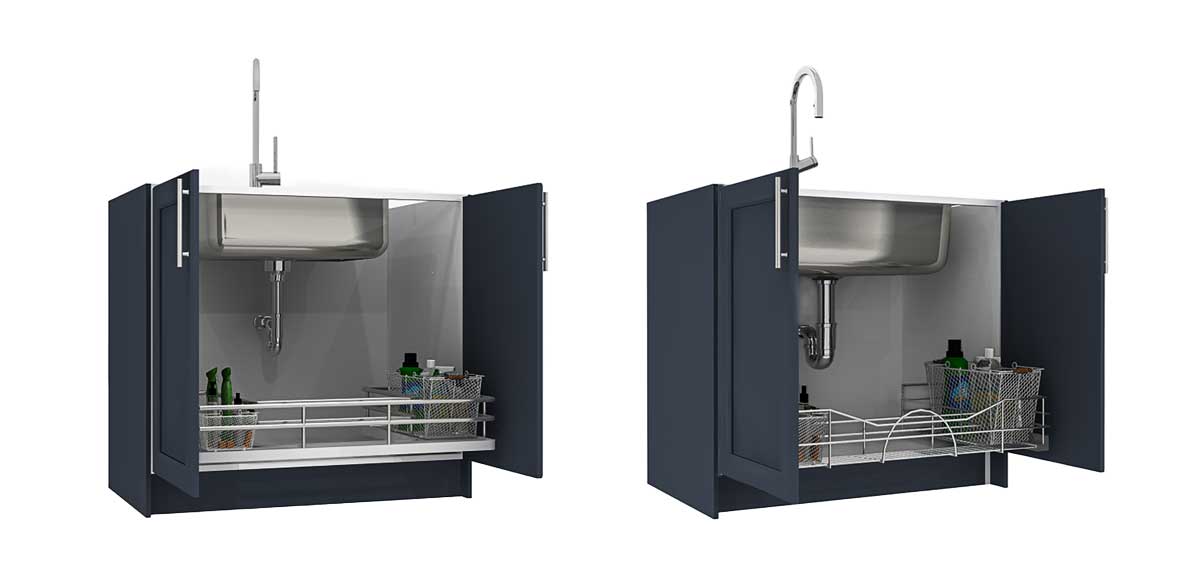 But what if you eliminated the cabinet entirely and designed your kitchen using only drawers instead of base cabinets?
Personalized IKEA Kitchen Designs
Created by Certified Designers
GET STARTED
Drawers are the next evolutionary step in kitchen design.
In our article on blind corner cabinets, we discuss how frustrating squatting down and getting inside cabinets can be. What if you never had to squat again?
This type of design is especially easy to manage with IKEA's SEKTION cabinets. Their versatility allows them to be outfitted either with UTRUSTA shelves and door fronts or MAXIMERA drawers.
For example, you could outfit a 24" x 24" x 30" SEKTION base cabinet frame with a UTRUSTA shelf, HAGGEBY door, and UTRUSTA hinges to create a traditional, divided base cabinet. It's a great place to stack your mixing bowls and Tupperware—if you want to crouch down and dig through cabinets for the rest of your life.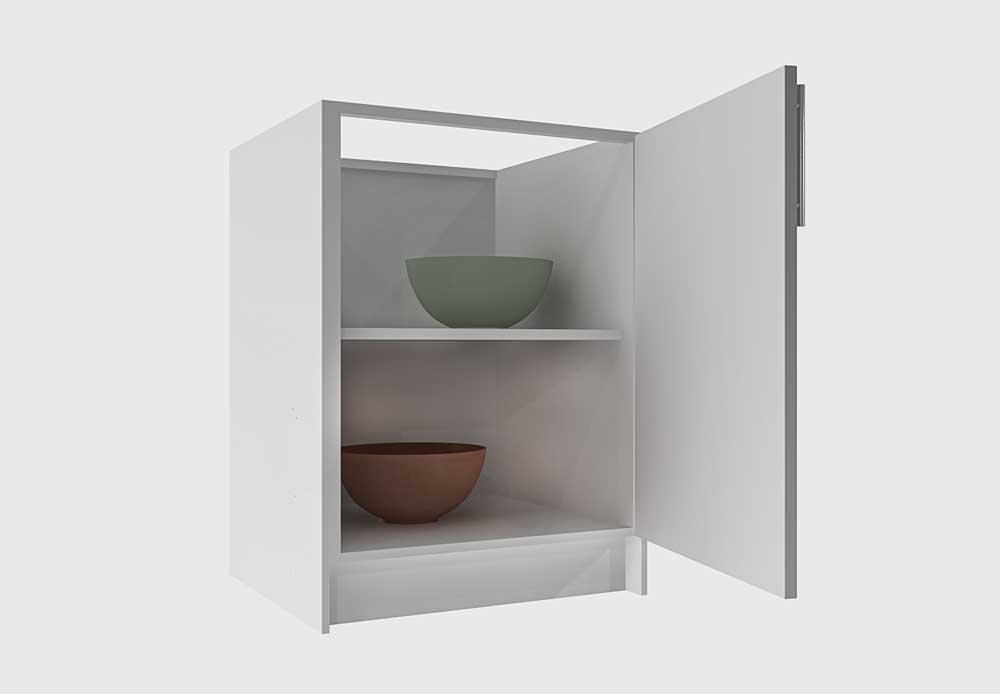 Or, take the same 24" x 24" x 30" SEKTION base cabinet frame and use two 24" x 24" x 8 3/8" MAXIMERA drawers and one 24" x 24" x 3 1/8" MAXIMERA drawer with HAGGEBY and UTRUSTA drawer fronts. This option gives you three levels of storage in the same space—no crouching necessary.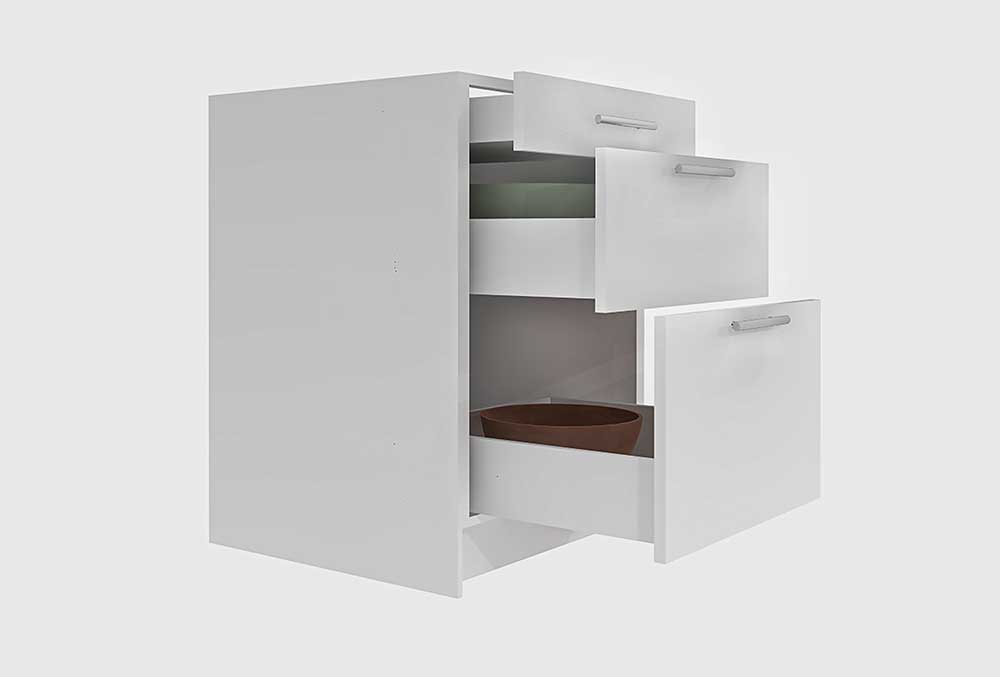 If you don't like the asymmetrical look of different-sized drawers, you can still obtain the three-tier organization but use two drawer fronts. The IKEA low MAXIMERA drawer (24" x 24" x 3 1/8") can be hidden behind a larger drawer front to avoid a skinny section breaking up your desired kitchen look.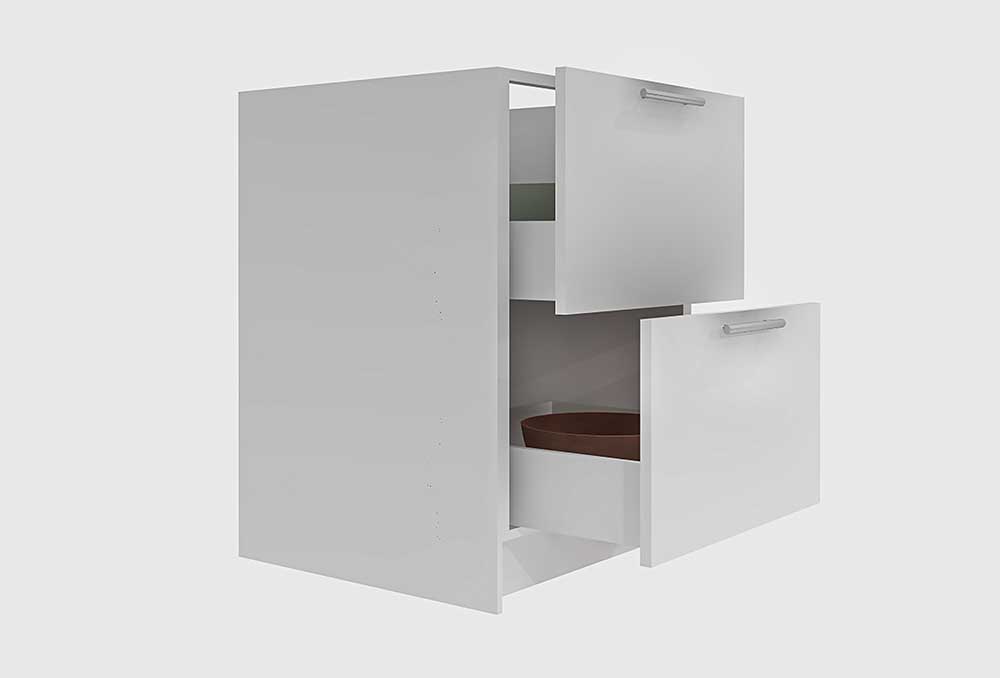 Is using all drawers instead of cabinets practical?
Absolutely. Drawers give you more useable storage space overall, nothing gets lost in the abyss of the back of the cabinet, and this setup also makes it easier to age in place.
For the serious chef, IKEA's 24" x 24" x 3 1/8" MAXIMERA drawers, paired with MITTLED lighting, offer the perfect opportunity for a mise-en-place setup. This can look like keeping a set of often-used spices and tools in the drawer or giving yourself extra counter space in the form of a cutting board or place to store prepared ingredients.
The options are endless.
Here are a few specific reasons why we love using IKEA drawers instead of doors:
Organizers ensure everything has a proper place.
Some people are concerned that small items will just end up lost in the bottom of a drawer instead of the back of a cabinet. Just as you would use organizers in a cabinet, you can use them in a drawer. The main difference is that cabinet organizers often provide pullout options; a drawer already gives you that.IKEA sells an array of utensil organizers, a tray with a knife rack, plastic drawer dividers, and wire partitions. We especially like the UPPDATERA pegboard drawer organizer, which lets you stand up and/or divide dishes and containers. Rev-A-Shelf also offers a line of drawer organizers, including wooden dividers and spice drawer inserts.Drawer organizers help you think outside the cabinet box. You don't need a spice rack taking up space in a cabinet or on a countertop. You can have a spice drawer. You don't need a knife rack. You can have a knife drawer.Anything can fit in your kitchen drawer—almost.
Drawers may be unable to hold larger appliances, but we have an innovative solution.
Depending on the dimensions, IKEA's MAXIMERA drawers hold between 45 and 55 pounds. Even the most massive stand mixer weighs about 35 pounds, and a 6-quart crockpot comes in at around 20 pounds. So you should be able to fit your larger appliances and accessories in a MAXIMERA drawer without bending any rails or compromising the integrity of the drawer.However, if you're still worried about the weight or simply prefer to have your appliances more easily accessible, the ideal solution may be an appliance garage.

Appliance garages help your countertop look less cluttered by offering a counter-level cabinet option for larger kitchen equipment. You can hide your toaster, mixer, food processor, blender, etc., behind a sleek door front and even pair it with a rollout accessory so you can slide it out onto the counter when you need it and slide it back when done.This is also a popular solution for those who like the idea of a hidden coffee station.
You have no empty vertical space.
Even with shelves, it's difficult to ensure all the space in a cabinet gets used. That's why under-shelf baskets exist, but those aren't very attractive or practical. A common solution to this problem is to place drawer organizers on cabinet shelves.It makes more sense just to install drawers from the start, right?When installing drawers, you will find that you get three fewer inches of storage space than you would with an open cabinet because you must allow room for the drawers and rails. However, what good is that extra room if it isn't getting used?As we mentioned before, you can fit two MAXIMERA drawers that are 24" x 24" x 8 3/8" as well as a 24" x 24" x 3 1/8" MAXIMERA drawer in a 24" x 24" x 30" SEKTION base cabinet. Imagine trying to make use of a shelf that was just 3 1/8" in height.As a drawer, it works.
As a shelf, it's wasted space.
Your kitchen comes to you.
We cannot stress this advantage enough.You need a casserole dish, and it's at the bottom of a stack of dishes.

---

With a traditional cabinet, the scenario looks like this:
Open the cabinet door, crouch down on the floor, pull out the stack of dishes (hope that pesky cabinet divider/filler isn't in the way), put the stack on the floor (because no one's trying to lift that thirty-pound stack onto the counter from a squat), get the dish you need, put it on the counter, get back down, put the stack of dishes away, and finally start cooking.

---

With a drawer, it looks like this:
Open a drawer, lift out the stack of dishes, put them on the counter, choose the one you need, put the dishes back, and close the drawer.
IKEA kitchen customers are choosing drawers over doors.
A mother-daughter duo from Connecticut chose drawers rather than doors for the mother's IKD kitchen design because they felt that drawers were more functional and liked how they looked.
Former IKEA co-worker and aficionado Baltimore Betsy shared her story of a client who chose drawers for accessibility and aging in place. She was 5'4" and 68 years old, and drawers were the obvious choice for her small condo kitchen.
Drawers keep your home cooking and entertaining experiences frustration-free because they work for you, while cabinets often work against you. Or, at least, it often feels that way.
Consider drawers instead of traditional base cabinets for your IKEA kitchen makeover.
Get a Professional IKEA Kitchen Design – All Online
Work with our certified kitchen designers to get a personalized kitchen designed around your needs and vision. If you're interested in learning more about our service, make sure to check out our IKEA Kitchen Design Services.