They'll fit more than just clothes with our solutions.
Your closet probably doesn't function just to hold clothing, and we'll tell you a secret: That's okay. It's okay if your closet has become not only a place to store clothing but also a catch-all for important documents, Christmas presents, and yarn from that one time you decided that crocheting was going to be your thing.
The problem isn't what's in your closet; it's how you organize it.
"We had plastic organizers in one corner of our closet and shelving above the curtain rod. Unfortunately, it was also the only out-of-the-way place we could fit the vacuum. We couldn't open the drawers to the organizer because the vacuum was in the way, the handle kept knocking clothes off the rod, and it was just a mess." –Tia T.
Does that sound familiar? If you can close the door on a room or a section of the room, organizing never seems to take priority. It's not important until you try to grab a shirt or get in a drawer, and a vacuum handle lands on your face.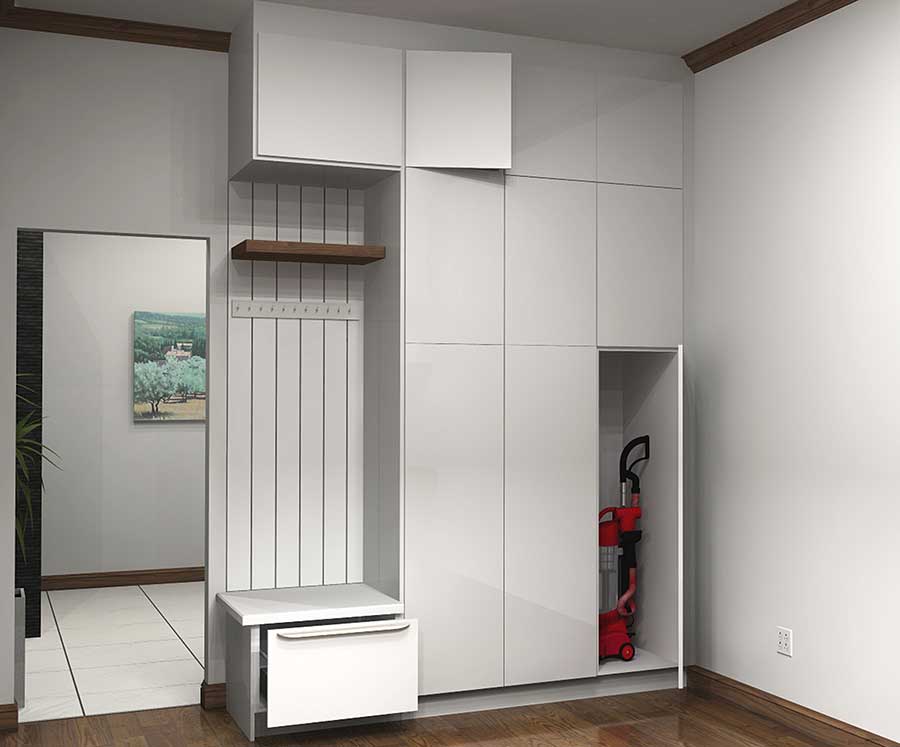 But Tia's story does have a happy ending, and yours can, too:
"IKD designed a solution that gave us a home for cleaning supplies and better use of empty space. It looks so much neater!" –Tia T.
Tia's solution involved taking her 6'x2' closet and designing the ENHET high cabinet to work alongside two PAX wardrobe frames with custom fronts to create a cohesive look. While a long rod and shelving may feel like it should give you the ability to organize, smaller compartments are typically more effective.
We'll Design Your Ideal IKEA Closet Easily, Affordably, and Online
Our IKEA Closet Design Package is everything you need to complete your new closet with confidence.
GET STARTED TODAY
Make your closet work for the way you live.
There is no point in clearing out everything that isn't clothing and accessories, especially if you're just going to take those board games, books, and art supplies and clutter up another space in your home.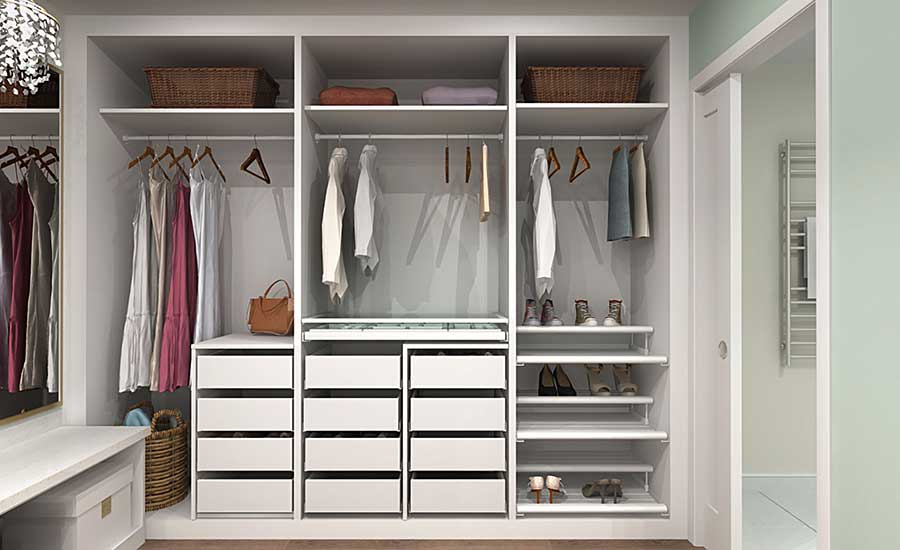 No matter what your mother (or another judgmental soul) tells you about your closet, it does not just have to hold clothes. She doesn't live there; you do. Your closet design should work for you and the way you live. You can make huge steps in your organizational process if you accept the stuff that is there and work with it instead of around it.
Designer Comment: "A recent client came to us needing storage for his work clothes, casual clothes, and photography equipment. He felt that his closet had potential to solve all of his needs, but he couldn't visualize it. We used PAX wardrobe frames and KOMPLEMENT drawers with compartments to create one wardrobe for casual wear and one for professional. Beneath that, we had drawers for ties, shoes, and socks. That left him with enough room for SEKTION cabinets to house equipment for his photography business." –IKD designer Meyer
Create dedicated sections in your closet.
Everything in your closet should have a home. When you take off your clothes after a long day, they don't go "in the closet;" they go in the hamper. When you look for a hat, it isn't "somewhere in the closet;" it's in the organizer on the third shelf to the left.
Getting to this level of organization is easier said than done.
The first step is to take everything out of your closet. Decide what you want to keep, what you plan to sell or donate, and what belongs elsewhere. Then, determine how you operate. Do you like your clothing hung up, or do you prefer to keep nice shirts on hangers and t-shirts and jeans in drawers? How often will you need to access specific items in your closet? Do you have seasonal decorations that can go on a high shelf without causing inconvenience?
"My closet was always a disaster. It was where I threw stuff when I needed the house to look clean without cleaning. I can't get rid of books, so a lot of what ended up in there were books. IKD's design team showed me that I could actually fit all of my clothes on just one side of the closet and designed the other half as a mini library." –Liza K.
Liza's solution for her 7'x10' closet was interesting to design. She was honest and admitted that she's always going to need a place to just toss items until she gets around to putting them away. We designed a wardrobe to the left of the closet and incorporated a SEKTION base cabinet with a roll out bin to create a "things to put away later" bin next to a similar setup for her clothes hamper.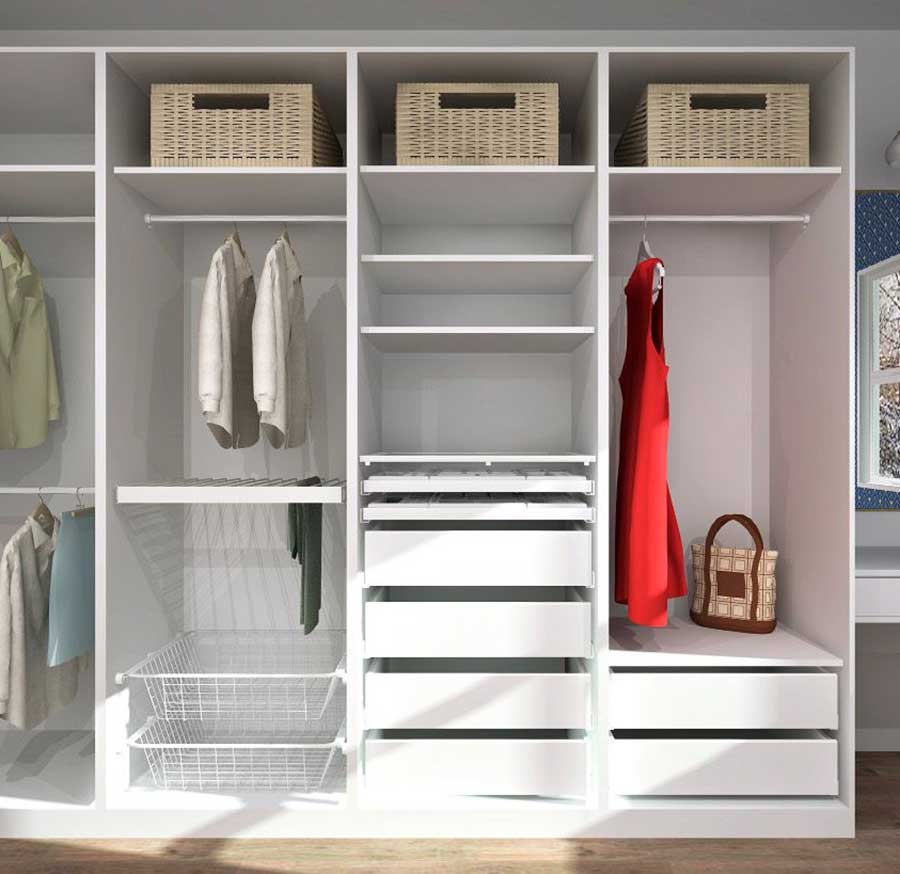 You'll be shocked at how much you can fit into your closet.
Having a dedicated space for everything in your closet makes it easier to stay organized. Sometimes, finding that space requires getting creative.
For example, you might use an IKEA accessory hanger to organize scarves. Would it make a difference in your space if you rolled them and placed them in drawers instead? It's one way we've seen clients use the STUK compartments in KOMPLEMENT drawers; they can open a drawer and easily view the scarves that are no longer getting lost among suit jackets and cardigans. We especially enjoy stacking low MAXIMERA drawers for accessories because they utilize what would otherwise be empty space in your closet.
"To fit my daughter's Barbie Dreamhouse in her room, we had to put her dresser in her closet. There wasn't enough space for hanging clothes unless we moved them to where she couldn't reach, so the dresser was always overstuffed, and she just threw her clothes in a pile in the corner." –Mariah N.
Kids' closets are often a challenge to manage. Mariah's daughter's closet was 4.5'x2'. IKD convinced Mariah to ditch the dresser in favor of MAXIMERA drawers (designed without gaps in the sides) that would fit perfectly on one side of the closet. To the left, we stacked HJALPA clothes rails, ensuring all clothing would be easy for Mariah's daughter to reach. When asked how they would like to use the remaining space out of their daughter's reach, Mariah and her husband chose to have us design matching cabinets with bi-folding doors to store craft supplies that had been taking up room in a kitchen cupboard.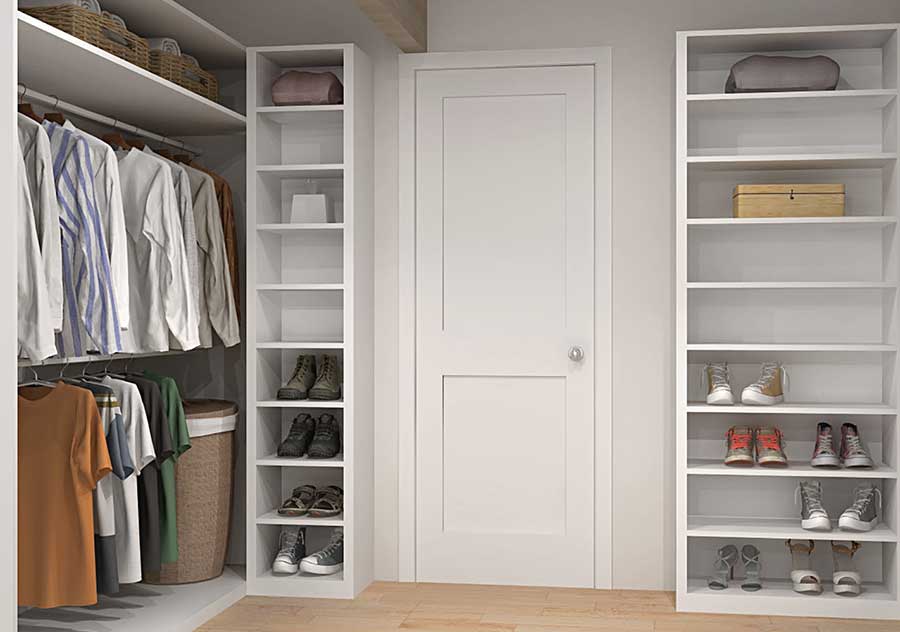 Not only did they create easier access for their daughter, but they also created more room in another part of their home.
Key Takeaway
Organizing your multifunctional closet can make the space feel bigger, allow you to clean up other areas of your home, and help you start off your day in a more peaceful state of mind.
Get a Professional IKEA Closet Design – All Online
Work with our certified designers to get a personalized closet designed around your needs and vision. If you're interested in learning more about our service, make sure to check out our IKEA Closet Design Services.