---
PLEASE NOTE: DUE TO HEAVY DEMAND THIS PRODUCT IS ON BACK ORDER NOW. IT WILL BE SHIPPED WITHIN 5 BUSINESS DAYS AFTER YOU PLACED YOUR ORDER
Keep your Apple Essentials organized and CHARGED, on the road AND on your work space…BentoBox style!
THE ORIGINAL BENTOSTACK ADDS POWER!
As seen on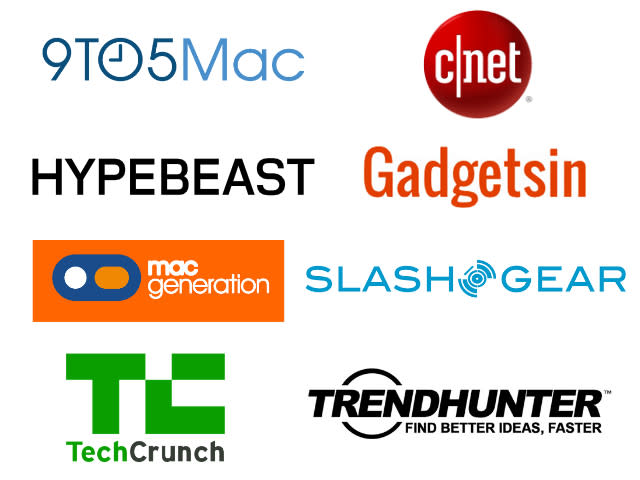 The original BentoStack is a storage case inspired by the modern Japanese lunch box re-designed specifically to hold Apple accessories for travel and workspace organization.
Now with a certified Qi Charger and Power Bank built into the Top Cover, you can set up your work space anywhere, no wires and no need for an external power source!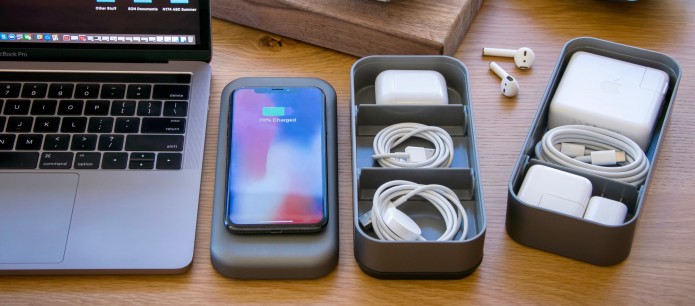 CHARGE WIRELESSLY
A Qi Certified Wireless Charger with a 5000 mAh battery is incorporated into the Top Cover to charge iPhone 8/8 Plus and all models iPhone X with no power outlet needed.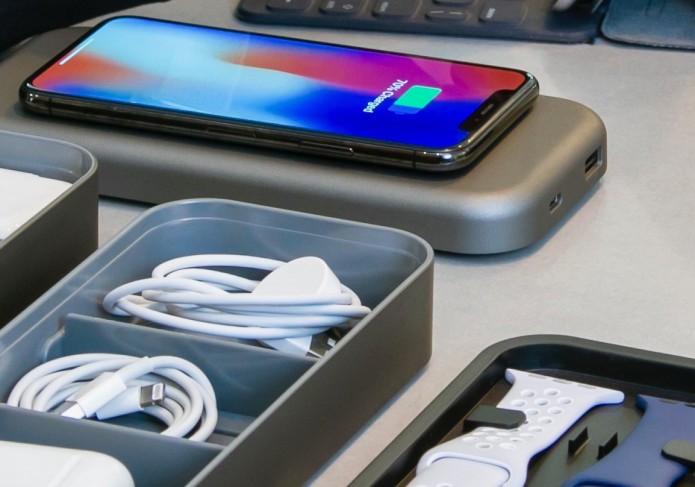 CHARGE BY USB
The power bank also enables USB charging of earlier model iPhones and other Apple devices like the Apple Watch and Apple AirPods.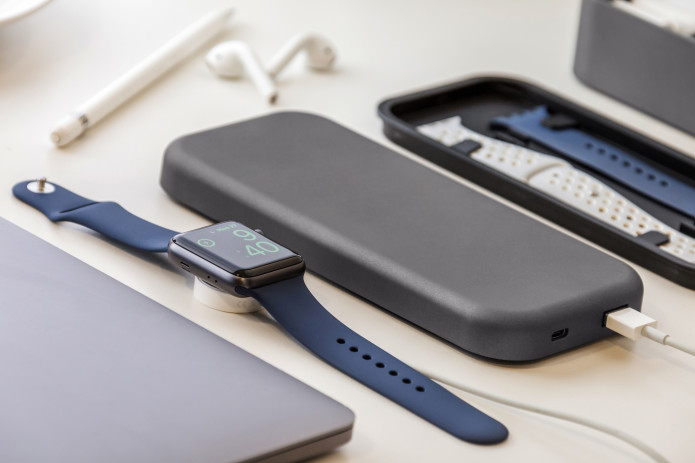 STAY ORGANIZED AT WORK
The stackable and modular BentoStack Charge holds up to twelve accessories in a smartly designed case that keeps all your accessories at arm's length for maximum productivity.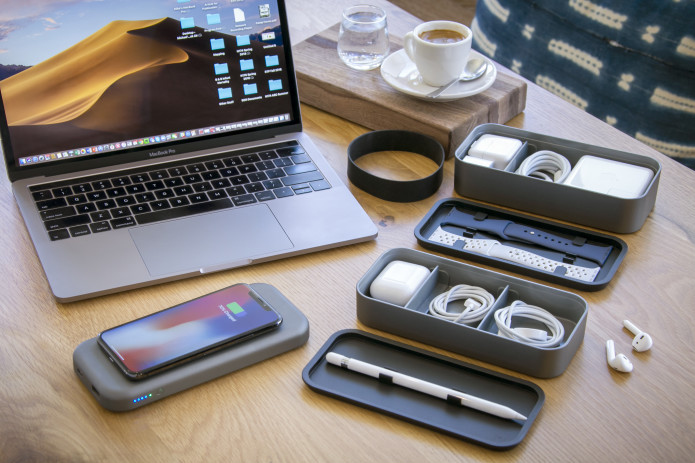 GO MOBILE
All compartments stack seamlessly together to form an ultra compact travel case which allows for the maximum amount of accessories in the smallest amount of space. Take the complete BentoStack Charge for longer trips or just half the Stack for lighter travel.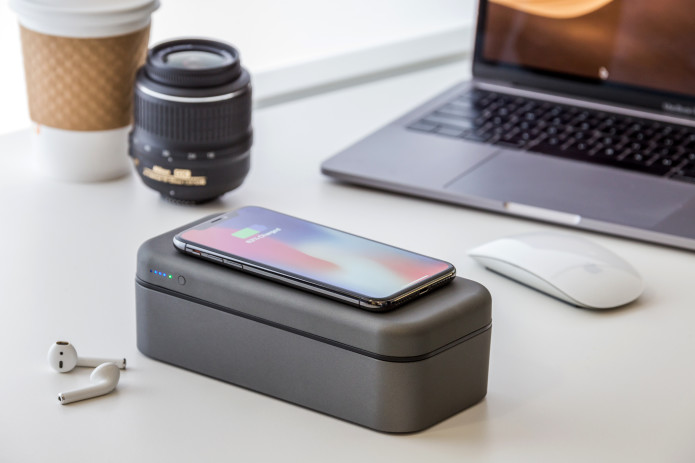 The Layers

Charge Cover
Wirelessly Charge Qi - Enabled iphones or charge by USB older iPhones and other devices likes the Apple Watch and AirPods.

Multi Purpose Top Lid
Use as an iPhone Stand or use as an Apple Pencil Holder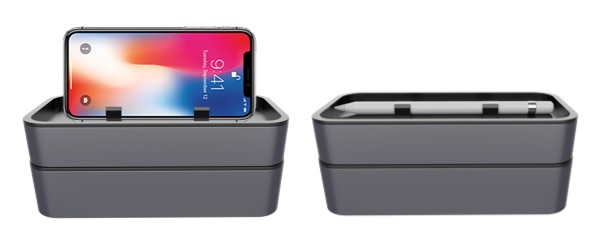 Bottom Lid
Securely Holds Two Apple Watchbands 

Four Sliding Dividers
Each Storage compartment contains two sliding dividers that lets you create custom storage space for your Apple essentials.

  Two Sizes Silicone Bands         
       Two sizes silicone bands are included to keep your BentoStack Charge secure when going mobile to accommodate taking one storage compartment or two!

 Two Size Options - USA & EURO
The Standard BentoStack Charge bottom compartment holds US style Apple Wall Chargers while the BentoStack XL version has a slightly taller bottom compartment that holds the large Euro sized wall Apple Wall Chargers. The Standard dimensions are 7 1/2" x 3 3/8" x 3 5/8" with the XL version 4/10" taller.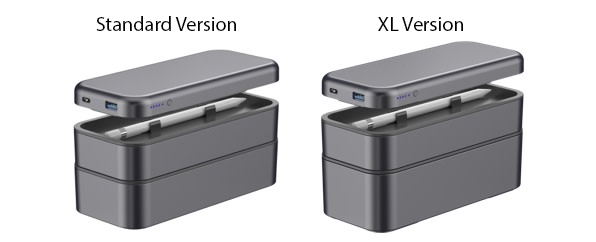 TECH SPECS
What are the power bank specs?
Battery type: Lithium-polymer rechargeable cell
Rated capacity: 5000mAh/18.5Wh
Input: DC 5V/2A (Type-C)
USB Output: DC 5V/2.4A max
What are the wireless charging specs?
Wireless Charging Standard: WPC Qi 1.2
Output: DC 5V/1A, DC 5V/2A, DC 9V/1.1A
Transmission Power: 5W, 10W max
WHAT'S INCLUDED IN MY ORIGINAL BENTOSTACK ORDER?
Standard Top Cover
Apple Pencil/iPhone Stand Top Lid
Cables and Headphone Top Compartment with two dividers
Apple Watchband Bottom Lid for storing two Apple Watchbands
Power Adapter and Cable Bottom Compartment with two dividers (width supports 87W MacBook Adapter)
Two  silicone bands (one large band and one small band) for keeping BentoStack Charge secure when going mobile