---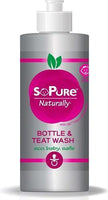 SoPure Bottle and Teat Wash 500ml keep your baby bottles germ & odour free.
This SoPure bottle teat wash 500ml kills germs and is chemical-free, non-toxic and residue-free. Furthermore, it is 97% natural.
Contains the latest Malodour control technology. A fast-acting, long-lasting, non-reversible Odour Eliminator that works by permanent chemical bonding.
Easily removes smells, stubborn milk, food, chemical residue as well as grease. Use to clean feeding bottles, teats, cups, baby dishes and breast pumps. In addition to gym bottles and everyday dishwashing needs.
Product Features:
Baby bottle safe
Active grease cutting technology
Contains natural preservatives and essential Oils
Minimised aquatic impact
Non-toxic formulation
Free from colours, formaldehyde as well as synthetic fragrances.
SoPure products are exactly what their name proclaims them to be. So pure! Pure enough for you to keep your whole family protected from germs as well as mosquitoes.
We stock a wide range of SoPure products that are user-friendly.
Sopure™ is tested and approved by:
SABS,
ISO 9001,
FDA (USA),
South African Department of Health,
South African Department of Agriculture,
SGS (ORGANIC compliant)