---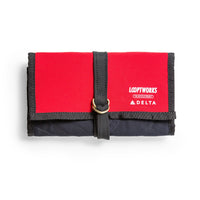 Description
The Delta Accessory Organizer is upcycled from retired Delta uniforms creating an Earth-friendly accessory with a low carbon footprint! Whether you're at home or on the go, this useful tool roll is ideal for keeping your tech accessories organized in one convenient place.
Featuring multiple pockets to hold everything you carry, this accessory cord organizer can tote anything from charging cords to writing utensils to tech accessories.
We partnered with a non-profit that employs adults with barriers to employment to clean and process donated uniform materials before upcycling them into new products.
A portion of sales from the Delta Accessory Organizer will be donated towards the to support environmental education programs.
Features
using materials from retired Delta uniforms:

Red dress
Navy suiting
Black trenchcoat

Secure, adjustable d-ring strap closure
Eight compartments of various sizes for organizing your tech gear
Elastic loops hold longer items in place
Exterior quilting provides additional protection
Limited edition and hand numbered
Handmade in Portland, Oregon
Dimensions: 9.75" H x 15.5" W x .25" D (unrolled)
Lifetime Guarantee
Low-impact products aren't just about how they're made, but about how they hold up. The longer a product lasts, the less waste we see in the long run.
That's why everything we make comes with our Loopt4Life guarantee, our ironclad promise that our products can be trusted to last a lifetime.
Already bought a Looptworks product?