---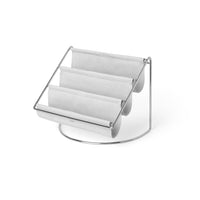 A unique accessory organizer for storing reading glasses, sunglasses, smartphones, keys and more. The tiered pocket design was inspired by a traditional file organizer where the contents are stored neatly, yet are easy to find. Suitable for use in an entryway, or on a bedside table or desk. Install on a wall, place on a surface or store in a drawer.
Made of gray suede and metal wire, this organizer is gentle on accessories and looks great on display.
Contains 3 pockets and one metal bar behind for storing extra glasses and accessories. When hung on the wall, the additional wire on the front can be used for storing glasses, scarves, and accessories.
Mounting hardware included for storage on the wall.
Organizer measures 7 x 4.75 x 6"
From one of our favorites, Umbra